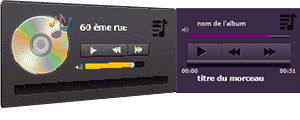 A super easy and slick joomla Playlist module to present your images on your joomla site.
Create a module, choose your display theme and greasy at an easily insert function, add your audio files by function drag/drop. By click on the audio file, you can view its name, album, bitrate, duration and associated comments. Our module dedicated to audio files playback, displays perfectly playlists, extracts of songs or even a simple piece of music. See the demonstration of this module on this site.
This Joomla audio playlist may be on any module position and, is responsive in funciont of the theme selected. You can even put the APlayerFP in articles, with the [loadposition] command.
This joomla player works on all important platforms, including iPhone, iPad and Android mobile phones.
The play works with audio files to MP3 / WAV and OGG.